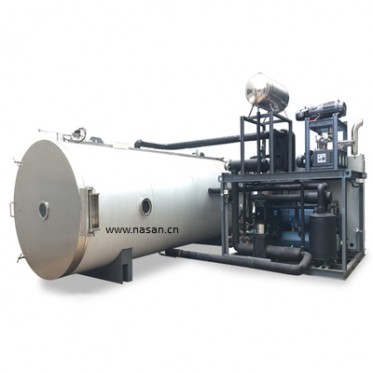 Freeze vacuum drying machine
Nasan Industry is one of the most reliable suppliers of Freeze
vacuum drying machine
. With their high quality products and excellent customer service, you can be sure that your purchase will be worth it.

● Freeze Vacuum Drying Machine Brief Introduction
According to physics, water has three phases, O point is the common point of the three phases, and OA is the melting point of ice. According to the principle of pressure reduction and boiling point reduction, as long as the pressure is below the triple point pressure, the moisture in the material can be directly sublimated from water to water vapor without passing through the liquid phase. According to this principle, the wet raw material of the food can be first frozen to below freezing point, so that the moisture in the raw material becomes solid ice, and then in a suitable vacuum environment, the ice can be directly converted into steam and removed, and then used in the vacuum system. The water vapor condenser will condense the water vapor, so that the material can be dried. This method of obtaining drying by vacuum freezing is the process of changing and moving the physical state of water. This process occurs at low temperature and low pressure. Freeze drying works by freezing the material, then reducing the pressure and adding heat to allow the frozen water in the material to change directly to a vapor
Primary applications of freeze drying include biological, biomedical, food processing and preservation.
● Freeze
First, the material to be freeze-dried is cooled to about 0-2°C with cooling equipment, and then placed in a freeze-drying box. Close the drying box, and quickly enter the refrigeration to completely freeze the product, and then the sublimation can be carried out.
● Sublimation
The sublimation of the product is carried out under a high vacuum, and during the pressure reduction process, the frozen state of the items in the box must be maintained. After the pressure in the box drops to a certain level, turn on the Roots vacuum pump (or vacuum diffusion pump), the pressure drops to 1.33Pa, and when the temperature is below minus60°C, the ice begins to sublime, and the sublimated water vapor forms in the condenser. ice crystals. In order to ensure the sublimation of the ice, the heating system should be turned on to heat the shelf to continuously supply the heat required for the sublimation of the ice.
● Re-dry
In the sublimation stage, the ice sublimates a lot. At this time, the temperature of the product should not exceed the minimum eutectic point, so as to prevent the product from being stiff or the appearance of the product being damaged. The shelf temperature is usually controlled within ±10°Cduring this stage. The moisture removed in the re-drying stage of the product is the combined moisture. At this time, the water vapor pressure of the solid surface decreases to different degrees, and the drying speed decreases significantly. On the premise of ensuring product quality, the temperature of the shelf should be appropriately increased at this stage to facilitate the evaporation of water. Generally, the shelf is heated to 30-35. C. The actual operation should be carried out according to the freeze-drying curve of the product until the temperature of the product coincides with the temperature of the shelf to dry.
● Food Freeze Vacuum Drying Machine
Food freeze dryer teat the material by very low temperature without very high vacuum, could maximum save the material shape, after dried the material is still 99% dimension of original size and fast to rehydration. The nutrient and component content could be 95-99% saved in the dried product, it is the best drying technology for high request drying material.
● Machine Feature
1. Freeze-drying box and shelf made with GMP standards, chamber made of 304SS, the interior is mirror-polished
2. Integrated design for chamber and cold trap, with observation window, structure easy to clean without dead angle
3. Shelf can be customized built, 304SS plate is made of brushed square steel surface, flat and easy to clean
4. Cold trap water capture coil made of stainless steel, integral structure or split structure can be optional
5. Refrigeration system use famous brand components, better refrigeration capacity and faster cooling speed
6. Vacuum system can provide a combination of multi-purpose vacuum pump sets according to customer requirements
7. Using OMRON PLC control manual or automatic, diversified control modes and diversified process procedures
8. Use soaking or steam defrosting, quick defrosting, high efficiency and clean process
9. With pre-freezing function, no need pre-freezing warehouse to avoid liquefaction and pollution during movement
10. With process adjustment and curve temperature control, can be adjusted to requirements of different materials
● Pharmacy Freeze Vacuum Drying Machine
Pharmacy freeze dryer teat the raw materials for medicines by very low temperature without very high vacuum, will not damage any property of a medicine. After dried the raw material useful component content could be 95-99% saved in the dried product, freeze drying technology could also dry liquid material to powder. Unti now it is the best drying technology for pharmacy raw material.
● Machine Feature
1. Meet the cGMP standard, the material of the chamber is AISI304 or AISI316L
2. Inner chamber use round corner design, make the chamber easy to access and reduce dead corners
3. Internal welding of the chamber is smooth treated, shelf material is heated evenly during the manufacture, avoiding welding stress and ensuring the flatness of the shelf
4. Heat transfer medium uses low-viscosity silicone oil, temperature uniformity is good at the extreme low temperature
5. Main unit parts use famous international brand spare to ensure the quality of the equipment
6. Using OMRON PLC control system, the control mode and process program are diversified, included the functions of authority management and traceability
7. Can provide 4Q certification documents, provide comprehensive training and services
● Minitype Laboratory Freeze Vacuum Drying Machine
Food freeze dryer teat the material by very low temperature without very high vacuum, could save 95% to 99% of the material shape, nutrient and component content. This is a small capacity freeze dryer for laboratory purpose to test different material. It could be home use for food material long time storage too.
● Machine Feature
1. Patented products with advanced technology.
2. The products are beautiful and fashionable and the dimension is small.
3. Operate on touch screen, one key start and automatically control freeze-drying process, easy and convenient operation.
4. Set and real-timely adjust freeze-drying technology by requirement and show the freeze-drying data and curve.
5. The imported key components are characterized by low noise, great power, high quality and high performance.
6. Advanced system, small running current and low energy consumption.
7. Dish and inner tank are made of SUS304 stainless steel, which guarantees the safety of product.
8. Fast defrosting technique and automatic protection for overheat.
9. The transparent organic glass door is helpful in observing the freeze-drying process of materials.
● Nasan Factory Brief

Shanghai Nasan Industry Co., Ltd. is a professional dryer manufacturer located in theChina's economic centerShanghaicity. Until now Nasan has 18 years manufacturing experience of various dryer machines. Our factory has excellent quality management team, professional research team and skilled production workers to ensure consistent product quality. Nasan insist on company spirit of "pioneering spirit, never satisfied," business philosophy of "socially responsible", company culture of "honesty, pragmatism, innovation, development ", provide better quality products and services for every client around the world. Welcome to visit our factory or send sample to us for drying test.
● Nasan Services

Nasan will supply the excellent quality dryer and the best services to every customer
1. Design the suitable dryer machine by customer's capacity and layout
2. Customer could bring the sample or send us the sample for drying test
3. Machine inside pack by Bubble film and outside by wooden case
4. Machine shipment port is shanghai port and normally delivery time is 75 working days
5. Nasan supply the installation drawing, could make all the 304SS pipe connection by request
6. Nasan supply 2 years free warranty period, but all always supply after sales service
7. Nasan could send engineers to do installation or maintenance all the time
● Nasan Customer Reference

These photos are some of our customer's factory and group photo with our engineers. At present Nasan dryer have exported to more than 40 countries and regions except China, such as United States, Canada, Germany, France, Italy, Spain, Sweden, Hungary, Poland, Cyprus, Israel, United Arab Emirates, Iran, Malaysia, Thailand, Vietnam, India, Myanmar, Singapore, South Korea, Russia, Uzbekistan, South Africa, Peru, Uruguay, Mexico, Chile, Brazil, Vanuatu, New Zealand, Australia and so on, product quality and after-sales service was well accepted by these client. If you are interested in our dryer machine, please contact us for details communication.
Nasan Industry is one of the most reliable suppliers of vacuum drying machine. With their high quality products and excellent customer service, you can be sure that your purchase will be worth it. The vacuum drying machine from Nasan Industry are durable and easy to operate, making them perfect for a variety of industrial applications. Additionally, Nasan Industry offers competitive prices on their products and provides timely delivery services to ensure that you get the best value for your money. With all these benefits, it's no wonder why so many customers choose to get their vacuum drying machines from Nasan Industry.
Vacuum drying machines from Nasan Industry offer a wide range of benefits for businesses and individuals. They are designed to be efficient, reliable, and cost-effective. With their advanced technology, the vacuum drying machine from Nasan Industry can help you dry various materials quickly and easily. Their machines are also designed to be easy to use and maintain. Furthermore, they come with a long-term warranty so that you can trust in the quality of their products. Investing in a vacuum drying machine from Nasan Industry is an excellent decision for anyone looking for an efficient and cost-effective way to dry materials quickly and easily.
If you are interested in this dryer, please fill in the Enquiry Form or send email to michael@nasandry.com