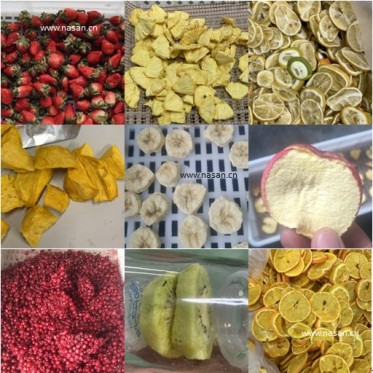 Fruit Drying Machine
Nasandry is a professional fruit drying machine manufacturer and supplier in China, specialized in producing high quality food processing machine.

● Fruit Drying Machine

Microwave drying could get the maximum drying speed and retain the original color and taste of fruit, this technology could save energy but get very good quality fruit, it is a better and economic drying technology for different fruit.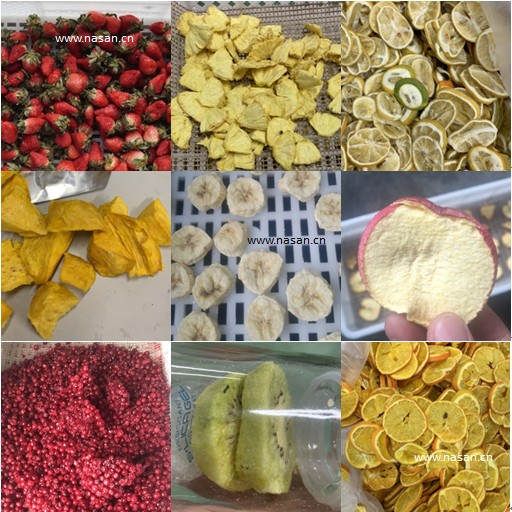 ● Vacuum model Microwave Fruit Drying Machine
Vacuum model microwave dryer heat material by lower drying temperature without oxygen, could maximum save the material color, nutrient and component content. The whole drying process is only 3-4 hours, it is the fastest speed in different drying technology. Vacuum microwave technology could get very good quality dried product, use less energy consumption and shorter time.
● Machine Feature
1. Vacuum drying pressure -97Kpa or 40mbar, drying temperature use40°C to 65°C, every drying batch is 3 to 4 hours
2. Vacuum drying system included vacuum chamber, water cooling tower, condenser, vacuum pump and water chiller
3. Low temperature vacuum drying maximum save the activity of the materials, nutrition ingredient and original color
4. Compare to freeze dryer, dried material quality is similar but energy and time is much less then freeze dryer
5. Whole drying machine use famous international brand spare parts, suit to CE and UL quality standard
6. Drying machine use rotate and moveable drying structure, make sure drying material is average drying
8. Drying machine installed remote control system for after sales maintenance
● Microwave Drying Brief Introduction
● Nasan Factory Brief

Shanghai Nasan Industry Co., Ltd. is a professional dryer manufacturer located in theChina's economic centerShanghaicity. Until now Nasan has 18 years manufacturing experience of various dryer machines. Our factory has excellent quality management team, professional research team and skilled production workers to ensure consistent product quality. Nasan insist on company spirit of "pioneering spirit, never satisfied," business philosophy of "socially responsible", company culture of "honesty, pragmatism, innovation, development ", provide better quality products and services for every client around the world. Welcome to visit our factory or send sample to us for drying test.
● Nasan Services
Nasan will supply the excellent quality dryer and the best services to every customer
1. Design the suitable dryer machine by customer's capacity and layout
2. Customer could bring the sample or send us the sample for drying test
3. Machine inside pack by Bubble film and outside by wooden case
4. Machine shipment port is shanghai port and normally delivery time is 75 working days
5. Nasan supply the installation drawing, could make all the 304SS pipe connection by request
6. Nasan supply 2 years free warranty period, but all always supply after sales service
7. Nasan could send engineers to do installation or maintenance all the time
● Nasan Customer Reference

These photos are some of our customer's factory and group photo with our engineers. At present Nasan dryer have exported to more than 40 countries and regions except China, such as United States, Canada, Germany, France, Italy, Spain, Sweden, Hungary, Poland, Cyprus, Israel, United Arab Emirates, Iran, Malaysia, Thailand, Vietnam, India, Myanmar, Singapore, South Korea, Russia, Uzbekistan, South Africa, Peru, Uruguay, Mexico, Chile, Brazil, Vanuatu, New Zealand, Australia and so on, product quality and after-sales service was well accepted by these client. If you are interested in our dryer machine, please contact us for details communication.
If you are interested in this dryer, please fill in the Enquiry Form or send email to michael@nasandry.com